Team iBIONICS
Our global team of experts is working on solutions to blindness
The Company
Team iBIONICS is committed to helping hundreds of thousands of blind people to see their loved ones again. The corporate headquarters is located in Ottawa-Gatineau, Canada with clinical operations in Montreal, Canada and an R&D subsidiary in Melbourne, Australia.
iBIONICS Team Leadership
The iBIONICS leadership team possesses a wealth of experience in implantable bionics and wireless technologies and entrepreneurship combined with a strong global perspective.
Suzanne Grant, CD
Chair, Cofounder, Chief Executive Officer (Serial international entrepreneur, marketing and engineering backgrounds, veteran)
As a Cofounder at iBIONICS, Suzanne leads the mission to do for blind people what Cochlear has done for the deaf. She applies her mantra, The Art of the Possible, daily using cutting-edge technology and social engagement to make the world better. Suzanne has lived a courageous career pushing boundaries and firsts from Canadian Military Engineering Officer to international entrepreneur. She founded a multimillion-dollar strategic communications agency and publishing house, The Art of Business, in Qatar. There, she advised Fortune 1000 companies on introducing innovation and launching in frontier markets. Suzanne has a BSc Physics from Carleton University, a Canadian Decoration, and a Canadian Forces Commendation.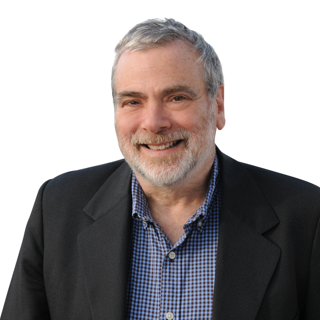 Professor Steven Prawer, PhD, DSc, FAA
Director, Cofounder, Chief Technology Officer (Diamond Eye™ inventor, diamond manufacture world leader)
Professor Steven Prawer is the lead inventor of the Diamond Eye™ and Cofounder of iBIONICS. He envisions technology development to benefit health and quality of life by providing a platform to communicate to the brain. Prior to joining iBIONICS, Professor Prawer developed a model to measure research and development return on investment from economic and societal impact perspectives at the National Research Council of Canada. He has also led the Melbourne Materials Institute, a multidisciplinary research initiative using advanced material science and technology to address problems of global significance. Professor Prawer has a worldwide reputation in advanced diamond science and technology, has published more than 300 scientific papers. He has received numerous fellowships and awards and in 2010 was elected to the Australian Academy of Science.
Professor Jim Patrick, AO, DEng
Director, Advisory Board Chair (Cochlear founding engineer and Chief Scientist Emeritus)
Professor Jim Patrick was part of the early development team of the cochlear implant. He went on to help Cochlear Limited grow to a $10B company supplying implants to over 400,000 hearing impaired people worldwide. Dr. Patrick applies decades of experience taking technology from the lab to global medical markets to his role as Chair of the iBIONICS Advisory Board. He actively participates in growth planning, positioning the company to successfully meet their global commercial aspirations. The advisory focus includes strategic investment partners, manufacturing, distribution, patient outreach, patient experience, regulatory procedures, innovative thinking, and quality assurance protocols.
Dr Flavio Rezende, MD, PhD Ophthalmology
Board Observer, Chief Clinical Officer (Expert in designing in-retina surgical techniques)
Dr Rezende leads iBIONICS' clinical team and is the first surgeon to perform retinal implant surgery in Quebec, Canada. His entrepreneurial spirit, experience and expertise fuel the design of a simple, fast and safe surgery for the Diamond Eye. Dr Rezende is the Chief of Retinal Service at the Department of Ophthalmology at Maisonneuve-Rosemont Hospital in Montreal and Associate Professor at the Department of Ophthalmology at University of Montreal. He has co-published more than 50 books, papers, and abstracts on retinal surgery and has won many awards, including five American Society of Retinal Surgeons awards and the Retina Foundation of Canada award for the Diamond Eye surgical design. Dr. Rezende has experience with a dozen clinical trials and research projects.
Dr Norman Viner
Advisor (Former Chief of Clinical Trials, Health Canada)
Dr Norm Viner is the former Chief of the Clinical Trials Division, Health Canada where he oversaw clinical aspects of Biologic and Genetic Therapies applications. This encompassed clinical trial research proposals for new drug indications involving biologic products, gene therapies, stem cell therapies, radiopharmaceuticals and vaccines and joint reviews with both therapeutic products and devices. He currently guides iBIONICS on achievable clinical trial design and execution including complying and navigating the regulatory system. Dr Viner, a graduate of University of Ottawa medical school, was in full-time general practice for 18 years and is a hospitalist at the Queensway Carleton Hospital. He conceived a potential smoking cessation therapy including the running of a pilot study involving design, manufacturing and use of a prototype pharmaceutical product. Dr Viner has authored a number of peer reviewed articles and patents.
Bela Incze, P Eng
Director
Bela is an entrepreneur, engineer and humanitarian with a 20-year career in the semiconductor industry, primarily focused on large telecom and datacom clients. A seasoned VP of Sales at numerous startups, Bela helped drive significant revenues with Tier 1 customers and played a leadership role in a successful M&A event. Bela actively advises small companies and entrepreneurs while supporting charitable causes around the world, helping people live better and healthier lives.
Professor Michael Ibbotson
Researcher
Michael Ibbotson is Chief Investigator of the National Medical and Health Research Council, Australia's $1M bionic vision stimulation grant in partnership with iBIONICS. The main goal is to optimize the diamond implant as a conduit for stimulating the sense of sight in a blind patient. A neuroscientist and Director of the National Vision Research Institute of Australia, Michael's primary work is investigating the physiological and anatomical structures that process visual information, how these structures influence behaviour and perception, and the development of prosthetic vision devices to return sight to the profoundly blind.
Dr David Garrett
Researcher
Dr David Garrett has worked with diamond implant technologies since 2010. A trained electrochemist, he specializes in developing safe, effective interfaces for neural stimulation and recording. His research group at the University of Melbourne are invested in a range of projects ranging from synthetic vision for the blind to high resolution cortical recording for epilepsy monitoring. In 2017, Dr Garrett was awarded the University of Melbourne Faculty of Science, Dean's award for Excellence in Research.
Dr Natalia Vila
Surgeon
Dr Natalia Vila is a vitreoretinal surgeon currently working on the development of the surgical technique for iBIONICS epiretinal device at University of Montreal. She completed her medical degree and residency in Ophthalmology at the University of Barcelona. It was followed by a fellowship in Ocular Pathology and then a Vitreoretinal Surgery fellowship at McGill University, while pursuing a PhD in AMD.
Patrick Chauvet, MSc
Clinical Trials Manager
Mr Chauvet is developing iBIONICS' clinical program and regulatory strategy. He designed the iBIONICS' pre-clinical development program and oversees execution including protocol design, ethics approvals, and reporting. His experience includes leading pre-clinical and clinical development for novel Class III medical devices from concept to market approval. He has managed multiple international multicentre trials that successfully led to market approvals in Canada, US and EU.
Anne Bruneau
Electrical Engineer
Anne leads iBIONICS' Canadian grant programs and supports its university programs. On the technical side, she plays a leadership and coordination role between the technical and clinical teams to assure integration and informed good decision-making and milestone progress. Anne also architects product development strategy. She brings extensive experience as a software designer and project leader on embedded real-time systems in an ISO 9001-certified environment in the telecommunications and aerospace industries.
Jean-Laurent Wilson
Biomedical Engineer
Jean has collaborated with Dr Flavio Rezende, ophthalmologist and retinal surgeon, for 15 years. He has illustrated a variety of retinal surgeries featuring techniques developed by Dr Rezende in a virtual reality environment. Today Jean designs, develops and tests surgical tools and instruments in support of the award-winning Diamond Eye surgical technique. Jean has decades of experience on product design and manufacturing in consumer markets and has built and directed engineering departments including engineers, industrial designers and prototyping personnel for fast growing client companies.
Rejean Fontaine, Eng PhD
Researcher
Rejean is a professor at Université de Sherbrooke and the manager of a Canada Research chair tier 1 in electronics applied to medical imaging. He has a strong background in designing microsystems including 2 successful technology transfers to industry. He has a background in cochlear implants and will contribute to the implanted electronics along with its reliable assembly at Université de Sherbrooke where he is the manager of the packaging and design laboratory.
Dr Arman Ahnood
Researcher
Dr Arman Ahnood has a background in the microfabrication of diamond-based retinal implants, as well as photovoltaic energy systems. In his role as lead investigator, he develops the fabrication of the diamond encapsulated retinal implant and its component and integrates the implant within the Diamond Eye system. He brings his expertise on photovoltaic energy harvesting systems, and earlier works on transdermal implanted PV cells. Arman is a Postdoctoral Researcher at School of Physics, University of Melbourne.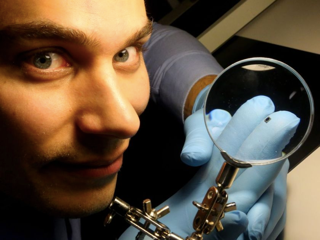 Ross Cheriton
Researcher
Ross Cheriton is a PhD candidate specializing in photonic devices and nanostructures at University of Ottawa. He works on developing the laser link, tracking and power conversion mechanism for the Diamond Eye retinal implant.
Suki Lee
VP of Communications
Suki Lee has been involved in the business side of iBIONICS since its inception in 2015. Her work includes business plan development, messaging, external communications, media relations, and website and design management.